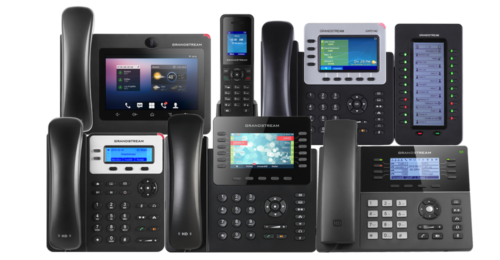 We offer a full portfolio of IP phones in order to offer the ideal device for every need and every user. Whether you need basic, mid-range, high-end, video or cordless phones, we have what you need. We even offer a free soft phone app, Grandstream Wave.
VoIP telephony transmits voice communications over the network using open, standards-based VoIP. As such, it provides a way for you to extend common voice communications services to all of your employees in their workspaces – on the main campus, at branch offices, remote, or mobile.
Operate more efficiently, cut costs and deliver cutting edge voice service to your business. Because of the bandwidth efficiency and low costs that VoIP technology can provide, businesses are gradually beginning to migrate from traditional copper-wire telephone systems to VoIP systems to reduce their monthly phone costs. VoIP solutions aimed at businesses have evolved into "unified communications" services that treat all communications—phone calls, faxes, voice mail, e-mail, Web conferences and more—as discrete units that can all be delivered via any means and to any handset, including cellphones.
We have a phone for every need...

Grandstream provides a wide-range of IP phones in order to offer the ideal model for any setting
Our Basic IP phones offer simple, easy-to-use IP phones
Our Mid-Range IP Phones offer mid-range capacity with a high-end design
Our High-End IP Phones are designed for users who are often on the phone
Our IP Video Phones for Android offer a powerful voice, video and web portal
Our DECT Cordless IP phones allow anyone to mobilize their VoIP solution
Our Grandstream Wave softphone app allows you to access any SIP accounts on any mobile device