We Believe Video Conferencing Should Be Easy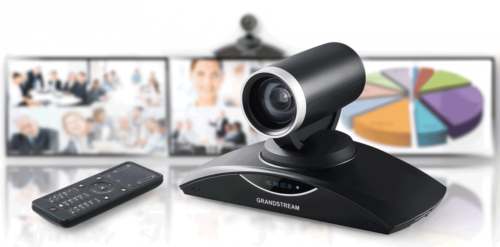 Video conferencing is revolutionary technology which allows you to hold meetings with several correspondents who are located in different places while seeing them and talking to them in real time. It is different from simple video calling, which is normally one-to-one video communication.
The GVC3200 allows users to communicate with anyone with HD video and other collaboration tools such as whiteboard, text exchange, file sharing, media sharing, screen sharing, remote control, electronic voting, conference recording etc.
Video Conferencing is very useful whenever there is a clear communication need, and the benefits described by those using video conferencing systems includes – reduced travel costs, face to face rather than telephone meetings, better quality teaching, easier collaborative working.
Uses of Video Conferencing

Video conferencing is used for a variety of purposes, including:
Personal communication. Grandstream video conference can be used for informal and formal way of communication. Informal communication would normally use desk top systems. More formal meetings with several participants at each site would probably use dedicated studio settings.
Collaborative work between researchers using shared applications
Presentations
Teaching usually involves one to many connections. The student sites may receive audio and video but only send audio.
Meetings: this is probably the most popular application. The cost savings can be appreciable especially for international conferences where not only the travel costs are saved but also the significant time spent travelling to destinations.